I'm not alone, I'm a link in the chain…
For 24 days France has been confined and about the same for the rest of the world. This puts a blow to all economic activity and a big brake on all projects, not to mention unemployment which is increasing at a glance.
My life is based on the Fausse Route project and its success in the spring of 2020. I have been working on this project for a year and a half, refining the products, working on the brand, talking with partners, service providers, prospects and many other stakeholders to make Fausse Route a reality, and above all an economic reality to continue my professional life as I see fit. But COVID19 and containment are very disruptive to the dynamic.
I must admit that the first 15 days were difficult, the stress skyrocketed. I didn't really see how I could continue to communicate about Miscarriage and the products when all the attention was focused on COVID19. I didn't find it "decent" to talk about clothing during this complicated period, I didn't feel like preparing my crowdfunding campaign. I had to make a video presentation and make new photos for the animation of the site and the social networks… how to do this without leaving home?
Then I told myself that economically speaking, my partners needed me too. That my order of 100 polo shirts wasn't so trivial after all. At this time of financial difficulties, maybe an order, however small, would cheer them up and avoid idling a bit more, especially since my production is local, well, European. So isn't it a case of sticking together to do everything possible to maintain the economic activity of a chain?
After turning the situation around, I concluded that I had to launch and succeed in my crowdfunding campaign. I'm going to use the resources at my disposal: my time, my terrace and my daily exit time, and once I'm ready, I'm going to do this crowdfunding campaign, I'm going to make it a success and I hope, thanks to all of you, to surpass my goal.
So right now I'm beating the pavement to achieve everything alone from my home to launch this campaign at the end of April in order to pre-sell 100 polo shirts, at least, and make my dream come true.
These 100 polo shirts mean a lot to me. They are the culmination of an important choice in my life and allow me to look to the future more serenely and independently. But they are also important for the European economy and affect many more people than I had originally envisaged. I am one link in a long chain. We are all links in a long chain.
Geoffrey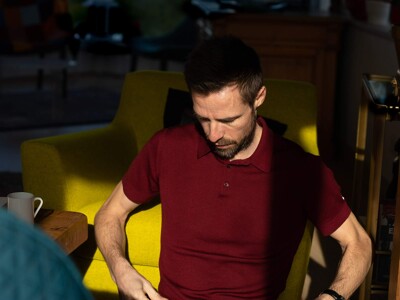 Le Polo
This short-sleeved polo shirt has been designed for your active life. Its curved line, slightly longer back and large back pocket give it an unprecedented look.
Discover "le" Polo »
---